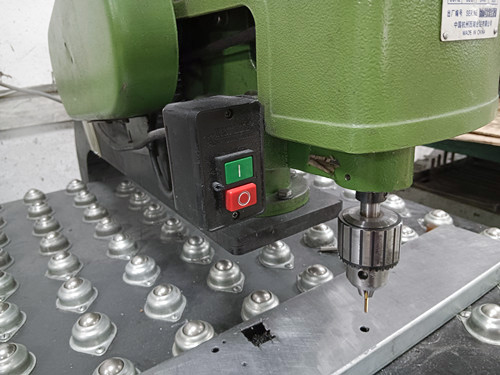 Here are two processing methods for

sheet metal drilling

: one is drill rotation, and the other is workpiece rotation. The universal drilling tool has a twist drill, a center drill, a deep hole drill, etc. the ordinary drilling tool is a twist drill, and the diameter of the drill bit is about 0.1 ~ 80mm. Due to the limitation of the structure, the bending and torsional stiffness of the drill bit is low, the alignment is not good, and the drilling accuracy is low, which can only reach it13-it11 in general; The surface roughness is also large, and RA is generally 50-12.5 um; However, the removal rate of drilling metal is large and the cutting efficiency is high. The errors produced by the two drilling methods are different. In the drilling mode of bit rotation, due to the asymmetry of cutting edge and insufficient stiffness of bit, the center line of machining hole can deviate or not be straight, but the hole is basically unchanged; In the drilling mode of workpiece rotation, the drill bit changes the hole and the hole centerline is still straight. Machining Scope:Precision Laser Cutting, Fiber Laser Cutting, CNC Robot Bending, Riveting, Welding, Broaching, Drilling, Tapping, CNC Machining, Metal Finishing, Assembling etc.
Category:
Sheet Metal Cabinet
;
Custom Sheet Metal
;
Sheet Metal Bracket
;
Sheet Metal Box
;
Sheet Metal Frame
;
Sheet Metal Chassis
;
Sheet Metal Case
;
Sheet Metal Enclosure
;
GET IN TOUCH OR GET A QUOTE
SERVING INDUSTRIES GLOBALWIDE WITH ULTRA-PRECISION SHEET METAL MACHINING SINCE 2011